For Election Day 2016 there are three basic possible outcomes:
1. Democratic best case: Clinton wins the Presidency and Democrats take a majority in the Senate
2. Status quo: Clinton wins the Presidency and Republicans defend their majority in the Senate
3. Republican best case: Trump wins the Presidency and Republicans defend their majority in the Senate
The House of Representatives is solidly in Republican hands because of the 2010 redistricting, and looks highly unlikely to change hands, although a big reduction in Republican seats could lead to leadership changes there as well.
Here is what you should watch out for as results come in tomorrow:
Presidential Contest
There are hundreds of thousands of different possible outcomes for Presidential campaigns because the Electoral College has so many different variables. But some states are more important than others, and the map below shows the states in which Clinton is likely to win (blue), versus the states where Trump is likely to win (red).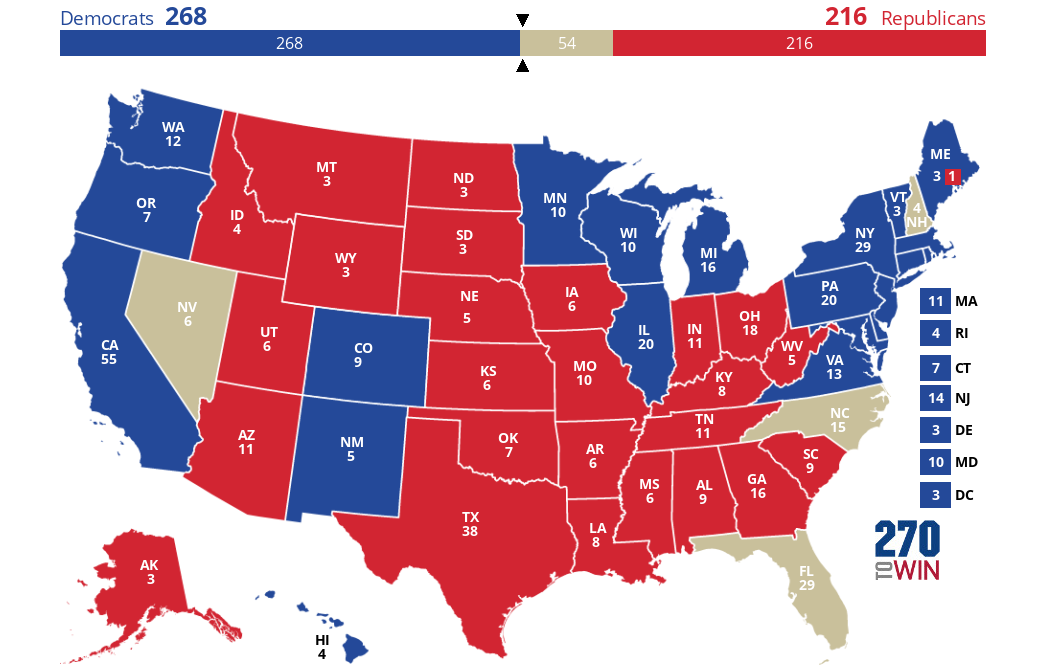 Click the map to create your own at
270toWin.com
States to Watch for the Presidential Contest
The three key states this year are Florida, North Carolina, and Nevada. The polls in those states are close enough that neither candidate can claim a real lead. For Trump to win he needs to win all three of them. If he loses in even just one of them, but especially in Florida or North Carolina, it will be nearly impossible for him to win. If he loses two or all three, Clinton wins.
New Hampshire is another important state to watch. Trump can win if he wins in the three key states listed above, and then also wins in a state in which Clinton is currently narrowly ahead. The Trump campaign has invested a lot of time and resources into New Hampshire because they think that it may be the state to put him over the top.
Trump is also trying to flip Clinton's lead in some other states, any one of which could replace New Hampshire as the state that puts him over the top. The states to watch for this kind of scenario are Michigan, Wisconsin, Minnesota, and Colorado. Trump's campaign has spent time in each of these states, hoping for upset wins in any one of them.
Clinton currently looks strong in Pennsylvania and Virginia, but unexpected losses in these two states would severely cut her advantage in terms of the electoral college, making a Trump win much more likely.
Lastly, Trump currently looks likely to win in Iowa, Ohio, and Arizona. If Clinton can win any of these three states, she is virtually guaranteed to win.
Turnout Can Make the Difference:
Clinton has built a much stronger Get Out The Vote (GOTV) operation than Trump, and early vote numbers have looked good for her, especially in Nevada. In states like Florida, North Carolina, and Ohio, her GOTV efforts could make enough of a difference to change the result in her favor, which is something to watch out for in the exit polling when they become available.
If there is a surge in Latino voters compared to 2012, that will be a good sign for Clinton in Florida, Arizona and Nevada. If black turnout is close to where it was in 2012, that will especially help her in North Carolina, Michigan, and Pennsylvania. Young voters turning out at higher than expected levels would also help Clinton.
Conversely, if there is a big surge of voting among white men compared to 2012, states like New Hampshire, Michigan, Minnesota, Wisconsin, and Colorado will be more winnable for Trump.
Senate Contests
Unlike in the House of Representatives, the Republican hold on the Senate is fragile. Democrats have a good shot at taking the Senate majority. The Democrats need four additional seats to tie the Senate (in which case the Vice President can break tied votes) or five additional seats to get a majority.
Democrats look likely to pick up two Senate seats in which there are vulnerable Republican incumbents: Illinois and Wisconsin. If those go as expected, Democrats will be just three seats away from a majority.
Watch for results in these states:
Missouri: Republican incumbent Roy Blunt is fending off a strong challenge by Missouri's Secretary of State, Democrat Jason Kander. Kander is a military veteran who has impressed with his energy and a viral campaign ad that will be remembered for being a rare example of an ad truly changing the dynamic of a contest. Blunt is slightly ahead in the polls, but only by about 2%.
New Hampshire: Republican incumbent Kelly Ayotte is defending her seat against Democrat Maggie Hassan, who is the current Governor of New Hampshire. Hassan currently leads by about 2%, which makes the race essentially a toss-up.
Nevada: Former Senate Majority Leader Harry Reid is retiring his Nevada seat, making this the only currently Democratic seat in which a Republican has a good chance of winning. Reid's chosen successor, Democratic former Attorney General Catherine Cortez Masto, is facing Republican Congressman Joe Heck. Cortex Mastro has a slim lead, but early vote numbers in Nevada show potentially strong turnout latino's which gives her an advantage as the Democrat.
North Carolina: Republican incumbent Richard Burr is favored to win over his Democratic challenger Deborah Ross. Burr initially didn't look vulnerable, but Ross caught up to within striking distance. Depending on turnout, this could be an upset loss for an established Republican.
Indiana: Current Republican Senator Daniel Coats is retiring his Indiana seat, which opened up the possibility for his predecessor, Democrat Evan Bayh to take back his former seat. Bayh was in the lead for most of the summer, but his opponent, conservative Republican Todd Young has surged in recent polling and now has a good chance of keeping the seat in Republican hands.
Pennsylvania: Democrat Katie McGinty is challenging incumbent Republican Pat Toomey for his Senate seat and she has consistently led in the polls, but by very slim margins. Both candidates are backed by well-funded interest groups, making this one of the most expensive campaigns in American Senate history.
One final state to watch is Florida, where Republican presidential hopeful Marco Rubio is running for re-election to his Senate seat. The polls look very good for Rubio, but his victory is not guaranteed.