By Alex Lange, JKL Political Analyst
There are only two weeks remaining until Election Day in the United States. The debates are now in the rear-view mirror, early voting has begun in many states, and the campaigns are in full swing making their final arguments to the American public. But they appear to have very different objectives.
The Polls are Clear: Clinton is Winning
Hillary Clinton has opened up a nearly insurmountable lead over Donald Trump, making it all but certain that she will be the next President of the United States. With a lead of about 6% in national polling averages, such as the RealClearPolitics polling average, Clinton is well into the territory of Barack Obama's decisive victory against John McCain in 2008.
Clinton has also opened up a lead in many key swing states, without which Trump's path to victory is impossible. For Trump to get to the 270 electoral college votes he needs to win, he can't afford to lose in Florida, Pennsylvania, Ohio, or North Carolina. That looks more unlikely with every poll that is published. Crucially, Clinton leads by an average of 6.2% in Pennsylvania, and 3.8% in Florida.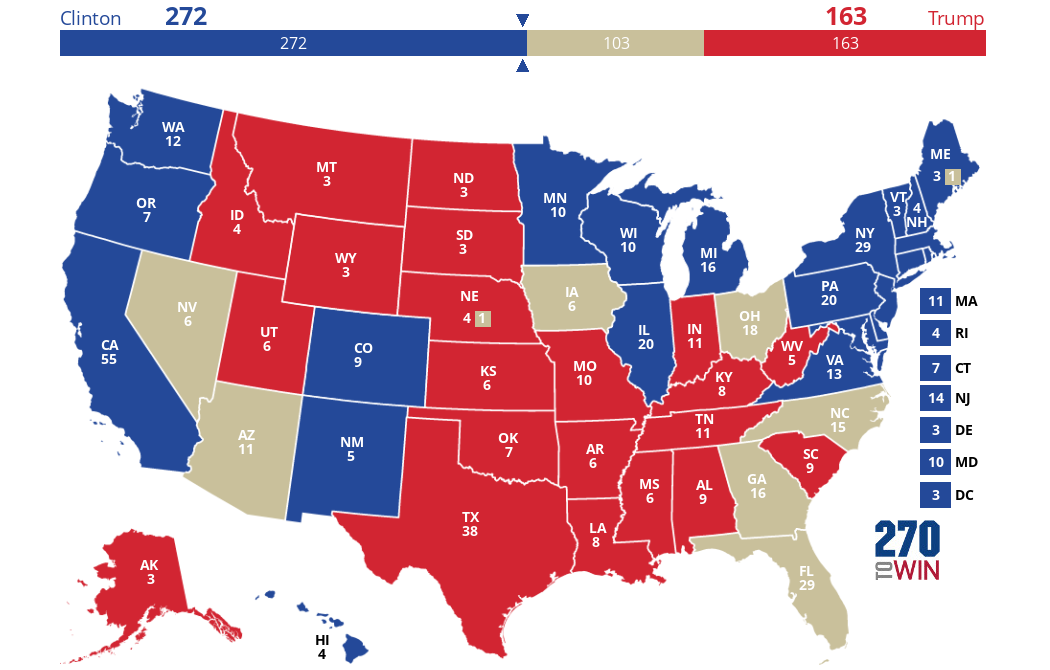 Click the map to create your own at
270toWin.com
A win in both Pennsylvania and Florida would practically guarantee a win for Clinton, while winning in just one of the two would already give her a big advantage. For example, Clinton can get to 272 electoral college votes just by winning in Pennsylvania and only the states in which she currently has a lead of more than 4%. That is the case even if Trump wins all the other states in which neither candidate leads by at least 4%.
Stark Differences in Republican and Democratic Strategies
For Clinton, this means she can now focus less on winning her own election – which has been her sole focus up until this point – and instead do more to help other Democratic candidates win their elections to the Senate and the House. In doing so, her campaign hopes to secure Democratic control of the Senate, as well as the House, although that is less probable. Clinton's campaign is leaning heavily on her extensive field operation to turn out voters most likely to vote a straight Democratic ballot early, and in higher numbers.
In a coordinated move, Democrats have also deployed President Barack Obama in a number of campaigns for state legislatures where the Republican Party has a strong grip on power. The unified message by the Democratic Party has now become to sweep aside Republicans as a way of changing the gridlocked status quo.
Meanwhile, Donald Trump is contesting the final weeks of the election in a very different way. He does not appear to be making significant changes to his strategy in the final two weeks. Instead, he is continuing on course with his outsider message under the catchphrase "drain the swamp", that taps into populist anger. It is practically impossible to change strategy at this late stage, so Trump is instead leaning more heavily on his existing strengths rather than try to correct his weaknesses.
Rather than trying to contest Clinton's lead with college-educated voters, women, and minorities, Trump's message is aimed at galvanizing his base. Trump wants to drive up turn out by white voters, especially men, who do not have a college education. It's a risky last-ditch strategy, that could change the balance in rust-belt states like Michigan and Ohio, but that doesn't do much in terms of winning states with large non-white populations like Florida or Arizona.
The Republican Party, and groups supporting them, have shifted to a different strategy as well. Rather than acting in a coordinated way to help carry Trump to victory, they have begun emphasizing the need for a Republican controlled Congress as a counterweight to a Clinton presidency. In several campaigns the different messaging has led to clashes between Trump, whose message is that America is in worse shape than ever, and incumbent Republicans who are emphasizing their economic achievements.
The concern for the Republican Party now is that the divide between the Party and their unusual presidential candidate will lead to many voters whom the Party could rely on in the past staying home, which is the opposite of what Trump is counting on to win. That could drag down Republican candidates who need those votes, and instead provide a big payoff for Clinton's divide and conquer strategy.
With just two weeks to go, the race is not over yet by any means, but it would take a dramatic event to turn the tables in Trump's favor. The polls may narrow again, but it's unlikely to change the outcome in the end. The big question now is who will control the Congress.
[Cover image: Getty]